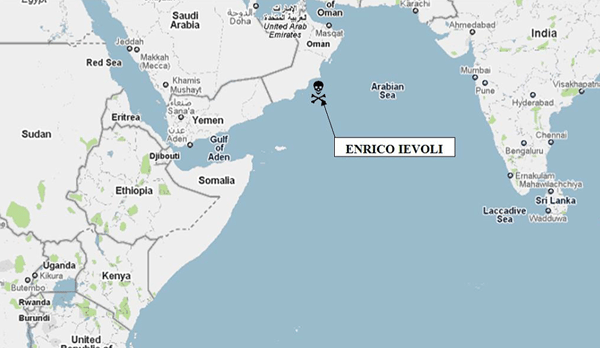 Hijacked by Somali pirates in December 2011, the ship was released ... after the ransom amount was handed over to the captors.
[April 24]"No ransom, we have done through legal channels, as required by the code of navigation." The owner of Enrico Levoni, freed after four months in the hands of the pirates of Somalia, responds well to those who ask what were the counterparts for the release of ship and crew. The tanker is doing back home escorted by our Navy. The crew is fine. Satisfaction among the Italian authorities, relief from relatives
No reports on sum of the ransom, Ukrainian Ministry of Foreign Affairs don't say if it was paid, though there are little doubts about it. The [Italian]foreign ministry denied the government had paid ransom and said the liberation was the result of "constant pressure'' on Somali authorities, the chemtanker was carrying caustic soda from the United Arab Emirates to the Mediterranean.
Demand for caustic soda declined by around 260,000 tonnes in the second half of 2011 because of shutdowns in the global alumina industry, according to an industry source.
[January 01]Police from Somalia's semi-autonomous region of Puntland near Dhinooda seized 10 pirates bound for MT Enrico Ievoli [9188415 ENRICO IEVOLI ] of Domenico Levoli, chairman and owner of Marnavi.. The M/T Enrico Ievoli was hijacked off shore Oman coastline while it was heading toward the randevouz point with the chinese armed convoy..
A number of them are investors while others were staff. Once a captured vessel has been brought to anchor, is common for pirate hijackers to be joined by the gang's investors a vessel as well as a team of armed guards brought on board to guard the hostages. The MT Enrico Ievoli was hijacked on December 27, while transporting a cargo of caustic soda. She carries a crew of 18, including seven Indians, six Italians, and five Ukrainians. Puntland forces have detained and seized numerous pirates within recent months but have yet to bring them to trial.
Marnavi S.P.A, Napoli, Italy and Marnavi offshore SRL, Napoli, Italy, respectively enjoy an unblemished and outstanding reputation in the safe transport and carriage of liquid chemical and edible oils, and the renderment of offshore services respectively.
To-day they have a modern fleet of 35 vessels trading worldwide with a total capacity of 170000 DWT, These include 13 stainless steel tankers ranging from 26500 DWT.