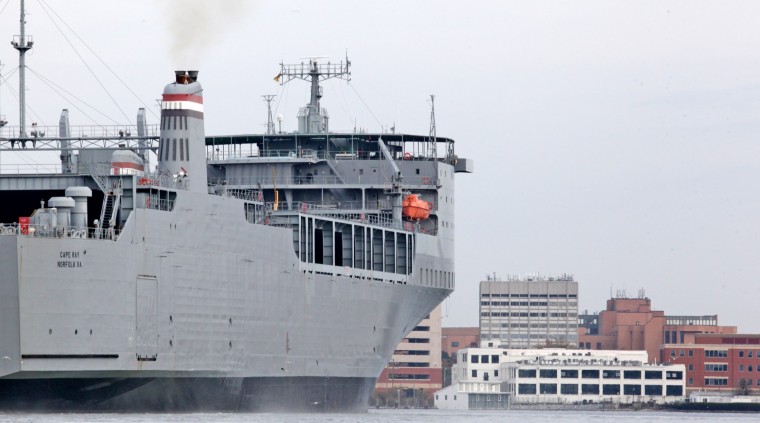 The MV Cape Ray, a retired cargo ship currently docked at a Virginia private shipyard on the Elizabeth River near the Midtown Tunnel, December 5th, 2013. The Cap Ray is preparing for a high-profile mission to destroy Syria's chemical weapons
The Cape Ray was activated twice in the past decade, each time to help move military supplies for the Iraq war.

It was buzzing with activity again on December 5. Department of Defense civilians began mounting the two mobile hydrolysis units below deck, defense officials said. The units will be enclosed in a special tent equipped with an advanced filtration system, ensuring that any chemical leaks would be contained. The entire neutralization operation would take place below deck, defense officials said.

If it gets the green light on the mission, the ship would come under the control of the Navy's Military Sealift Command. It would be staffed with a crew of about 100 people - a mix of Defense Department civilians and private contractors, defense officials said.

Under the working plan, several hundred tons of chemicals would be loaded into shipping containers in Syria, moved to Latakia, a Syrian city on the Mediterranean Sea, and transferred to a non-Syrian port. To avoid docking in the war-torn country, the Cape Ray would pick up the containers from a third country, destroy the chemicals while at sea, then offload the waste at a commercial treatment facility, defense officials said.

The Pentagon began developing the field-deployable hydrolysis system in response to the Syrian civil war. The system - which takes an existing technology and makes it mobile - went through final testing this summer.

Neutralization is achieved by mixing hazardous chemical agents with water and other chemicals, and then heating the mixture.

[December 5]
Norwegian frigate will, December 9, sail for Syria, to assist in the work of freighting chemicals from the Syrian weapons programme. Norway has also offered the use of a transport vessel.
The frigate "Helge Ingstad" will be used to escort the freighters which will be used to transport the chemicals to the US, where they will be destroyed.
Armaments
Bestykning 1 × Mk 41 VLS for missiler
32 × RIM-162 ESSM SAM
8 × Naval Strike Missile
4 × 324 mm torpedorør for Sting Ray torpedoer
1 × 76 mm OTO Melara SR kanon
4 × 12,7 mm Browning M2HB mitraljøser
Synkeminer
Sensorer AN/SPY-1F (luft/overflate)
CAPTAS MK II V1 aktiv/passiv tauet sonar
MRS 2000 skrogmontert sonar
Kommandokontroll Link 16, Link 11
Mannskap ca. 120
Fly NH90 Nato Frigate Helicopter
Norway has granted NOK 90 million in support to the UN's work to destroy Syria's store of chemical weapons.
Destruction of so-called "category 3" chemical weapons, which are unfilled munitions, has proceeded at a rapid clip, and has been completed well before the target date of January 31st. At least for now, it is unlikely that Syria has the capacity to make or fill any new weapons.
However, another looming deadline is proving rather harder to meet. By the end of this month, 500 tonnes of the deadliest chemicals in Syria's arsenal are meant to have been removed from the country for destruction elsewhere. Known as "priority chemical weapons", including nerve agents, such as sarin and mustard gas, these are deemed too dangerous to take into a third-party country for commercial reprocessing (in fact, Albania was approached to host their destruction, but refused).
First, the weapons must be sealed and packaged in special containers brought across the border from Lebanon by Syrian technicians who have been trained there by OPCW specialists. Then they must be transported by road from multiple sites to Syria's biggest port, Latakia, some 225 kilometres (140 miles) north of Damascus, the capital. Once there, they will be loaded on to ships provided by Norway and Denmark and taken to an American government-owned vessel, the Cape Ray, a 200-metre (650-foot) cargo ship that is part of a reserve fleet used for transporting military hardware at short notice. The Cape Ray is being fitted with a mobile unit that has been developed for breaking down lethal chemical agents into a sludge similar to industrial toxic waste. This will eventually be treated for disposal by commercial firms in a number of different countries, according to Ms Kaag. When the Cape Ray arrives in the Mediterranean it will be escorted by several American navy warships.
MV Cape Ray (AKR-9679)

Built in 1977, the ship was delivered to Saudi Arabia's National Ship Co. as MV SEASPEED ASIA. Later renamed SAUDI MAKKAH, she was purchased by the Maritime Administration in 1993 and was subsequently converted for military use. Renamed MV CAPE RAY (T-AKR 9679), she was assigned to the Ready Reserve Force on December 17, 1994. Since then, she is maintained in reduced operating status in a layberth at Portsmouth, Va. If required, she can be fully activated within 5 days.
General Characteristics: Built: 1977
Builder: Kawasaki Heavy Industries, Ltd., Japan
Purchased by MARAD: 1993
Propulsion system: two Diesel engines
Propellers: one
Length: 648 feet (197.5 meters)
Beam: 105 feet (32 meters)
Draft: 32 feet (9.75 meters)
Displacement: approx. 35,350 long tons full load
Speed: 16+ knots
Aircraft: none
Armament: none
Crew: 9 civilian mariners in ROS; 29 civilian mariners when activated
Homeport: Portsmouth, Va.

There appear to be 3 phases to the plan, firstly, to move the 1330 tonnes to the Port of Latakia, secondly to transport these chemicals to the MV Cape Ray presumably in the Mediterranean somewhere, and to commercial toxic waste destruction facilities and finally to destroy the most toxic by hydrolysis on the MV Cape Ray and the rest by normal convention toxic waste destruction at civilian facilities, by mid 2014 – all possible, well apparently, until yesterday's 11th hour request by Minister Mekdad.

It is understood that most of the CW is North of Damascus and will have to move through a number of contested areas before it reaches Latakia.


[December 2]
The United States is donating a ship and destruction equipment, but it has not yet reached agreement about where the naval vessel will anchor while it processes the toxic chemicals. Latakia, is likely the northern port from which Syria will export hundreds of tons of toxic chemicals to a floating destruction facility.
Under a deal worked out between the United States and Russia, Syria will relinquish control of its chemical weapons and destroy its entire stockpile of 1,300 tons of sarin, mustard gas and other lethal agents. The size of the stockpile, including 800 tons of industrial chemicals destined for incineration at commercial toxic waste plants, means it can only be transported by land and sea. Syrian forces will have to transport the chemicals through contested territory to Latakia. For the program implementation and the removal out of country it is necessary the roads are open and safe to be used.
[October 31]
amphibious warfare ship Admiral Nevelskoi
Israeli aircraft have carried out a strike near the Syrian coastal city of Latakia, a US official says.
The official said the strike targeted Russian-made missiles intended for the Lebanese militant group Hezbollah. One unnamed US official told the Associated Press that the missiles targeted by Israel were Russian-made SA-125s. Since Russia replaced all of its S-125 sites with SA-10 and SA-12 systems, they decided to upgrade the S-125 systems being removed from service to make them more attractive to export customers
"I think we've made it crystal clear we would prefer that Russia was not supplying assistance " to the Syrian regime in its war against opposition forces, US Secretary of State John Kerry said in Rome May 9. Russia is not planning to supply Syria with any weapons beyond the current contracts that are nearing completion, Russian Foreign Minister Sergey Lavrov said
refuting speculations
that Moscow was going to sell S-300 air defense systems to Damascus.
[June 10]
U.S. intelligence agencies have identified three Russian amphibious warships in the eastern Mediterranean that are believed to be carrying weapons shipments that might be used to resupply the Syrian regime, according to a Pentagon official.
The United States has been tracking the ships since they left Russian ports several days ago. U.S. satellites were able to see some indications of containers being loaded onto the ships. It's believed the ships may be carrying some components of the controversial Russian S-300 air defense missile system and other weapons for the regime.
The destroyer Admiral Panteleyev, the amphibious warfare ships Peresvet and Admiral Nevelskoi, the tanker Pechenga and the salvage/rescue tug Fotiy Krylov left the port of Vladivostok on March 19 to join the task force.
[May 30]
The first shipment of Russian anti-aircraft S-300 rockets has arrived there according to

Syrian president Bashar al-Assad
There had been a "bank transfer" in connection with the S-300 transaction but that Russian banks were becoming increasingly nervous about dealing with Assad. Russian newspaper Kommersant reported today that Russia expects to deliver the long range surface-to-air missile systems by the second quarter of 2014..Most likely this is bluff, To complete its Syrian contract, Russia will need at least seven-to-nine months for first S-300 to be delivered
There were some problems with payments because big Russian banks were scared of dealing with Assad, but there was a bank transfer.There are also not big banks and banks that are not based in Moscow. Beyond the down payment there was almost certainly a second payment, maybe a third.
[May 29]
Russia's deputy foreign minister Sergei Ryabkov said he could "neither deny nor confirm" the reports claiming that the delivery had already been finalized,
[May 28]
Russia says it will go ahead with deliveries of S-300 anti-aircraft missiles to Syria, and that the arms will help deter foreign intervention.
Deputy Foreign Minister Sergei Ryabkov said the missiles were a "stabilising factor" that could dissuade "some hotheads" from entering the conflict.
earlier
2009
Shipping from St. Petersburg to the Syrian port of Tartus is expected. 2011 annual report by S-300's manufacturer,mentioned a contract for the missile systems for Syria. The report has since vanished from the plant's website, but was cited by the respected Vedomosti business daily at the time as saying that the contract was worth $105 million and that an unspecified number of S-300 systems were slated for delivery between 2012 and early 2013.. The report has since vanished from the plant's website, but was cited by the respected Vedomosti business daily at the time as saying that the contract was worth $105 million and that an unspecified number of S-300 systems were slated for delivery between 2012 and early 2013.

T

he manufacturer is unlikely to have ready-to-ship S-300 systems lying on the shelves: Whatever leftovers there were from a deal with Iran, scrapped in 2010, were long ago snatched up by other customers such as Algeria. This means the systems would need to be produced and test launches conducted, a job that would take about a year. Furthermore, dozens or even hundreds of staff would have to be trained to operate the complicated machinery, which should take about six months. This would push Assad's most optimistic deadline of owning fully operable S-300 complexes to November 2013 at best, with spring of 2014 being a more realistic estimate.
Alexandria Egypt
Israeli and American officials have urged Russia not to proceed with the sale of advanced S-300 air defense weapons. The Kremlin has yielded to American entreaties not to provide S-300s to Iran. But the denial of that sale, analysts say, has increased the pressure within Russia's military establishment to proceed with the delivery to Syria.
[September 2 2010]
Defense Minister Ehud Barak is said to be concerned over the possibility that Russia will follow through with the delivery of the S-300 surface to- air defense system to Iran via Syria.
Russia has issued mixed messages regarding the future of the 2005 deal in recent months, first saying that the new round of sanctions on Iran passed by the United Nations in June would not impede the deal and later saying that it would.
Despite the Israeli objections, a top Russian official issued a statement on Sunday saying that Moscow would honor its deal with Syria.
"I would like to emphasize that the Russian Federation is fully honoring its earlier agreements with Syria," Russian presidential aide Sergey Prikhodko told the Interfax news agency.