These Russian Ships now gone from Tartus
P-8 patrols Latakia Harbor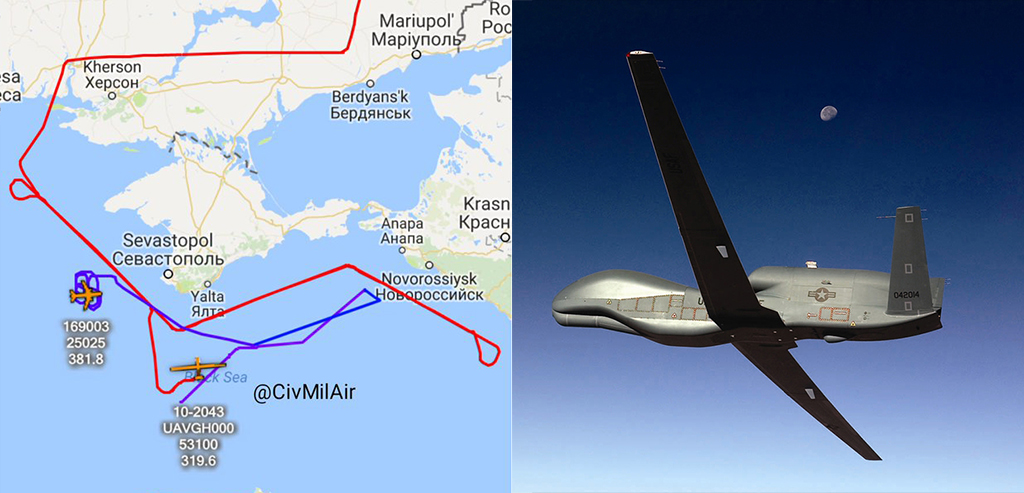 US Navy Ohio-class guided missile submarine USS Georgia with 158 cruise missiles changed its area of operations to the Mediterranean. USS John Warner nuclear submarine is also deployed in the region,DDG USS Laboon somewhere near the Mediterranean and DDG USS Carney deployed somewhere in Mediterranean . The British can offer the fire power of an Austute-class submarine, which has been already ordered to approach Syria. These carry 38 Tomahawk IVs cruise missiles. Add to that strike potential of B2 Stealth Bombers, F-22 Raptors based in the region and Britain's Tornado bombers based on Cyprus.
USS IWO JIMA (LHD-7) ARG transited Suez Canal March 27 and entered in the Djibouti on April 3. The U.S already has one guided-missile destroyer, The Donald Cook, in the Eastern Mediterranean. The USS Porter arrived in Cherbourg on April 7. The USS Ross is in Plymouth April 8.
USN's P-8A Poseiden and EP-3E aircraft operated in the same time slots close to Crimea on April 3.
A carrier strike group is slated to replace the USS Theodore Roosevelt in the Med after it completed four months of operations in the Persian Gulf. US Navy aircraft carrier USS Harry S. Truman and its associated carrier strike group are getting underway from Norfolk on Wednesday, April 11, to start a deployment to the Mediterranean Sea and Middle East. In addition to US Navy ships, the group will be joined by German air defense frigate FGS Hessen for the first half of the deployment.
Guided-missile destroyers USS Jason Dunham (DDG 109) and USS The Sullivans (DDG 68) will join the strike group at a future date.
The aircraft carrier USS Theodore Roosevelt) arrived in Manilafor a scheduled port visit, April 11.