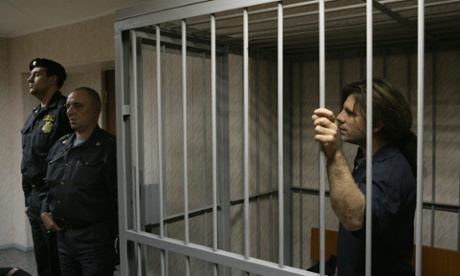 Iain Rogers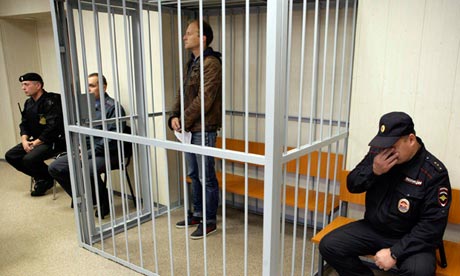 Denis Sinyakov, a photographer
Russia has dropped piracy charges against 30 Greenpeace activists, replacing them with hooliganism charges, according to officials.
The new charge has a maximum penalty of seven years rather than 15. Greenpeace says it is still "wildly disproportionate".
[September 27]
On Sept. 26 and 27, a Murmansk court arrested them for two months on suspicion of piracy.
The court said Denis Sinyakov, a photographer who formerly worked for the Reuters news agency, was a flight risk as he had frequently travelled abroad. He was remanded in custody for two months, and led out of the courtroom wearing handcuffs. Roman Dolgov, a marine pollution expert from Greenpeace, was also denied bail, so was Canadian Paul Ruzycki.
Decisions in the cases of other foreign activists on board the ship, who come from 18 different countries,came September 27.
]May 24]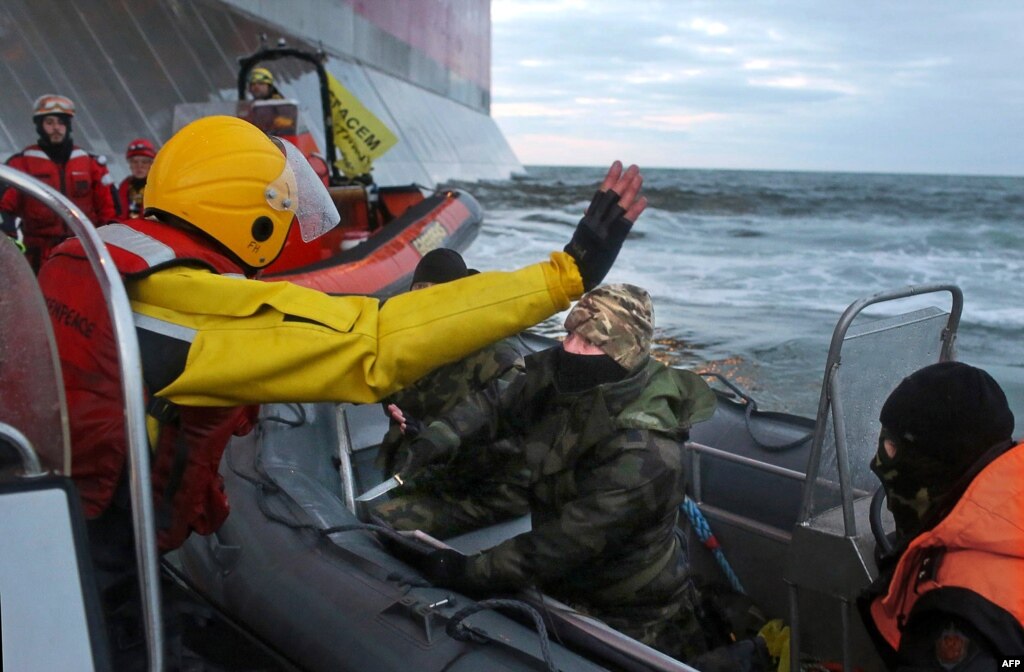 activists at drilling rig
oil platform Prirazlomnaya
russian border guard tug
Russian Federal Security Service's Border Guard vessel Ladoga via Novisti
Arctic Sunrise
The Greenpeace ship Arctic Sunrise is close to arriving in the port of Murmansk after being boarded by Russian authorities September 19 following a peaceful protest against Arctic oil drilling.
The ship arrived under tow by a Russian Federal Security Service's Border Guard tugboat in the fjord near Murmansk around 10:00 local time September 23 accompanied by the Russian Federal Security Service's Border Guard vessel Ladoga, following September 19 boarding by armed security forces.
Moscow Sep 18, 13 – Russian Coast Guard fired warning gun shots towards Greenpeace vessel Arctic Sunrise near oil platform Prirazlomnaya in Pechora sea, Arctic. Earlier four Greenpeace activists tried to climb platform, they were detained and later delivered to Coast Guard ship Ladoga,
Name:

Arctic Sunrise
IMO:

7382902
Flag:

Netherlands
MMSI:

244538000
Callsign:

PE6851
Former name(s):
- Polarbjorn (Until 1995 Oct)
Technical Data
Vessel type:

Yacht
Gross tonnage:

949 tons
Summer DWT:

610 tons
Length:

49 m
Beam:

11 m
Draught:

4.8 m