Filipino military experts increasingly use the term "red line" to discuss the prospect of new Chinese construction on Scarborough Shoal. They refer to it as the "last straw" and worry that China plans to turn the area into a military base. This year, the Philippines moved forward with the Enhanced Defense Cooperation Agreement, or EDCA, which allows the U.S. military to build facilities at five Philippine bases and will likely mean more hardware at Subic Bay, which is now technically a commercial, not a military port. at the South China Morning Post on April 25, Minnie Chan reported that according to "a source close to the PLA Navy":
China will start reclamation at the Scarborough Shoal in the South China Sea later this year and may add an airstrip to extend its air force's reach over the contested waters…A measure of confirmation of these external signals was provided by the distribution on Sohu's military channel of an article by the popular Xinhua tabloid "Reference News" (Cankao Xiaoxi) citing the SCMP report.


[February 15 U.S. and Japan plan united front against Beijing's maritime projects, ]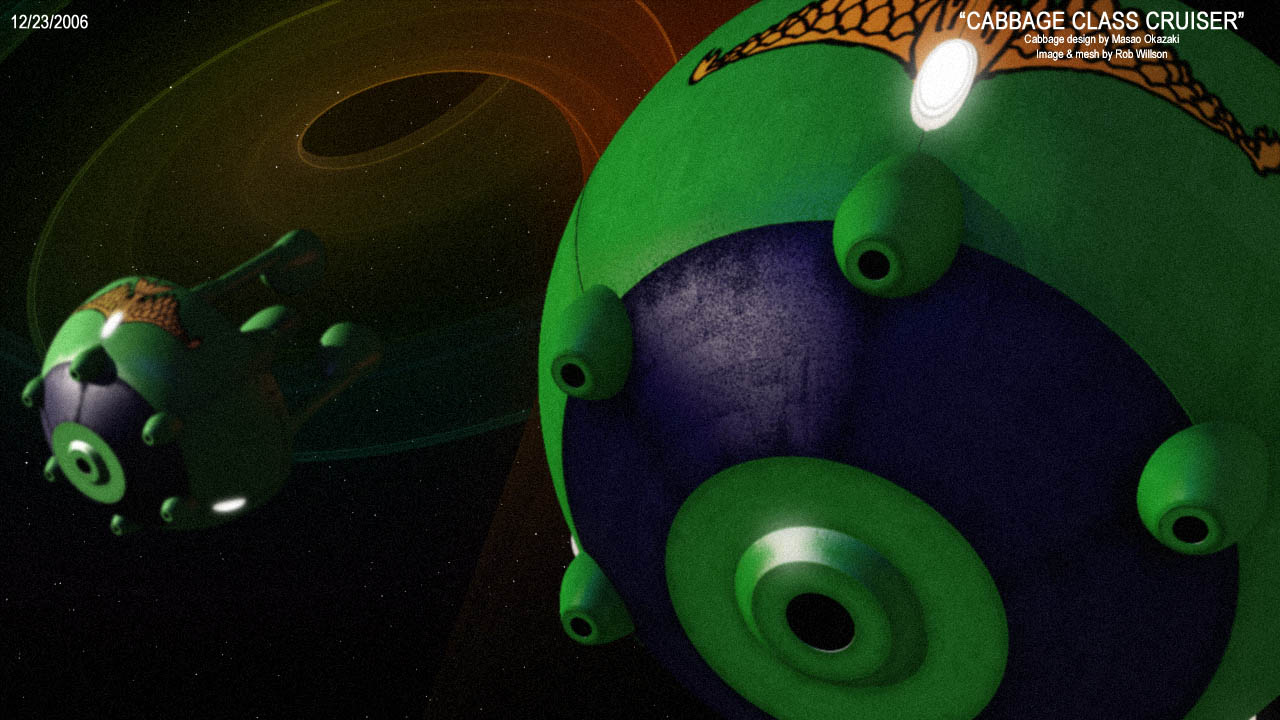 Romulan starfleet Cabbage class cruiser

U.S. 7th Fleet commander Vice Admiral Joseph Aucoin. said he had a "greater fear" about other actors, "whether it's coast guard or what we refer to as white shipping or cabbage ships, not sure about their professionalism."
China Coast Guard vessel No. 31239 sails in the East China Sea near the disputed isles known as Senkaku isles in Japan and Diaoyu islands in China, in this handout photo taken and released by the 11th Regional Coast Guard Headquarters-Japan Coast Guard December 22, 2015.
The United States and Japan plan to hold a meeting of coast guard commanders and their Australian and Philippine counterparts in order to build a unified front against Beijing's maritime projects,
20 miles northwest of the Senkaku Islands,, Chinese vessels equipped with heavy machine guns vessels were seen in February , including vessels No. 31241, 2102 and 2305. Japanese patrol boats warned the Chinese ships and prevented their entry into Japanese territorial waters
In addition to the dispute in the East China Sea, Japan has been vocal in its opposition to Beijing's land reclamation activities in the South China Sea and has joined regional alliesbut Japanese patrol boats warned the Chinese ships and prevented their entry into Japanese territorial waters who have protested China's moves.
[December 26
Chinese gunboat off Senkaku Islands says Japan
]
A Chinese coastguard vessel with what appeared to be gun turrets entered territorial waters claimed by Japan in the East China Sea, Japan's coastguard said on December 26, adding that it was the first such incursion by an armed Chinese vessel in the disputed area.
The vessel was one of three that appeared in the waters off the disputed Senkaku Islands, known in China as the Diaoyus, shortly after 9:30 a.m. (0030 GMT) and left Japanese-claimed waters about 70 minutes later, a Japan coastguard spokeswoman said.China said its vessels were carrying standard equipment and doing nothing wrong in Chinese waters.
Chinese coastguard vessels sail regularly near the islets but the Japanese coastguard spokeswoman said none had ever been seen equipped with arms.
[September 4
Chinese flotilla moving toward the Aleutian Islands, which are split between U.S. and Russian control]
Type 071 amphibious transport dock ship
Changbai Shan
(989)
United States have been tracking the movements in recent days of three Chinese combat ships, a replenishment vessel and an amphibious landing ship after observing them moving toward the Aleutian Islands, which are split between U.S. and Russian control.
Type:
Amphibious transport dock
Displacement:
18,500 metric tons (18,200 long tons; 20,400 short tons)[1]
Length:
210 m (689 ft 0 in)
Beam:
28 m (91 ft 10 in)
Draft:
7 m (23 ft 0 in)
Propulsion:
CODAD
4 × Shaanxi 16 PC2.6 V400 diesel engines, 47,200 hp (35,197 kW)
2 × shafts [1]
Speed:
25 knots (46 km/h; 29 mph)[2]
Range:
10,000 nmi (19,000 km) at 18 knots (33 km/h; 21 mph)[3]
Boats and landing
craft carried:
• 4 × Type 726 Yuyi class LCAC
• 2 × landing craft on port/starboard davits
Capacity:
15-20 armoured vehicles
Troops:
500-800 troops
Complement:
120
Sensors and
processing systems:
• 1 × Type 360 Radar Seagull S, E/F-band surface search radar
• 1 × Type 364 Radar, Seagull C, G-band air search radar aft
• 1 × Type 344 Radar, I band fire control radar
• 1 × navigational radar
Armament:
• 1 × AK-176 76 mm (3.0 in) gun
• 4 × AK-630 30 mm (1.2 in) CIWS
• 4 × 18-tube Type 726-4 decoy/chafflauncher
• Possible installation of 2-4 heavy machine guns (Fitted for but not with)
Aircraft carried:
4 Z-8 Super Frelon
December 5 2013 USS Nimitz has left South China Sea: Senkaku islands fall under the U.S.-Japan security alliance]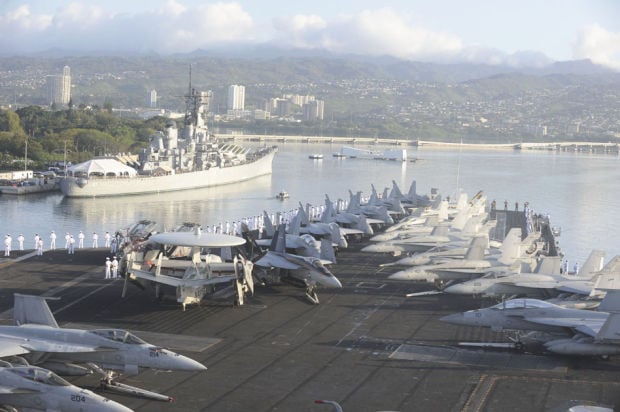 December 4 2013. USS Nimitz, along with embarked Carrier Strike Group (CSG) 11, CVW- 11 and Destroyer Squadron 23 made the brief stop at Honolulu while headed home after an eight-and-a-half month deployment to the U.S. 5th, 6th and 7th Fleet areas of responsibilities (AORs).
The aircraft carrier USS Nimitz in the South China Sea, which is part of its area of responsibility, Nov. 19, 2013.
December 2, 2013. Japan and the United States held a joint sea maneuver over waters off Okinawa. November 29, China launched two fighter planes to investigate flights by a dozen U.S. and Japanese reconnaissance and military planes in its new ADIZ. Both sides are getting ready for saber rattling. The United States sent two B-52 bombers to China's new ADIZ on Nov. 26. China didn't take action against the "intruding" planes, because the ADIZ restrictions apply only to civil aviation, not to military aircraft.
U.S. Defense Secretary Chuck Hagel reiterated November 30 that the Senkaku islands fall under the U.S.-Japan security alliance, which obligates the United States to defend the territory against any potential attempt to seize them. The islands were transferred from U.S. to Japanese possession in 1972, along with Okinawa. China does not recognize the legitimacy of the transfer and claims the islands should have been returned to them along with Taiwan following World War II.
(Sept. 21, 2013)
A landing craft air cushion (LCAC) from Assault Craft Unit (ACU) 4 leaves the well deck of the amphibious assault ship USS Kearsarge (LHD 3). Kearsarge is the flagship for the Kearsarge Amphibious Ready Group and, with the embarked 26th Marine Expeditionary Unit (26th MEU), is deployed in support of maritime security operations and theater security cooperation efforts in the U.S. 5th Fleet area of responsibility.
GULF OF ADEN (Sept. 7, 2013) The amphibious assault ship USS Kearsarge (LHD 3) conducts operations at sea. Kearsarge is the flagship for the Kearsarge Amphibious Ready Group and, with the embarked 26th Marine Expeditionary Unit, is deployed in support of maritime security operations and theater security cooperation efforts in the U.S. 5th Fleet area of responsibility.
The ARG includes the amphibious assault ship USS Kearsarge (LHD 3), the amphibious transport dock ship USS San Antonio (LPD 17), which left the 5th Fleet AOR during summer, the amphibious dock landing ship USS Carter Hall (LSD 50), Assault Craft Unit 4, and Helicopter Sea Combat Squadron (HSC 28).
[October 6]
US military forces have conducted an operation in Somalia targeting a member of the rebel group al-Shabab.
On October 5, George Little, the press secretary for the US Department of Defence, confirmed the raid was carried out.
He said that the operation was aimed at capturing a "high value al-Shabab terrorist leader" and that no US personnel were injured or killed.
"US personnel took all necessary precautions to avoid civilians casualties in this operation and disengaged after inflicting some al-Shabab casualties. We are not in a position to identify those casualties," said Little.
Although the Shabab leader was believed to have been killed during the assault, the SEALs had to withdraw before they could confirm the kill.."The Baraawe raid was planned a week and a half ago, It was prompted by the Westgate attack," A senior Somali government official told the newspaper that "the attack was carried out by the American forces and the Somali government was pre-informed about the attack."
[October 5]
A U.S. official described the action in Barawe as a capture operation against a high-value target in a two-story beachside house. The official said a U.S. Navy SEAL team engaged al-Shabab militants and sought to avoid civilian casualties. The U.S. forces disengaged target after inflicting some casualties on fighters.
The leader of the al-Qaida-linked Somali militant group al-Shabab, Mukhtar Abu Zubeyr, also known as Ahmed Godane, claimed responsibility for the attack on the upscale mall in Nairobi, Kenya, a four-day terrorist siege that began on Sept. 21 and killed at least 67 people. A Somali intelligence official said the al-Shabab leader was the target of Saturday's raid.
Al Arabiya
Somalia's Islamist militia al-Shabaab said on October 5 that a dawn raid at its strongholds in the small town of Barawe in the south of the country was carried out by British and Turkish special forces. The commander of the British force, it said, was killed during the attack and four other SAS operatives were critically wounded. One Turkish soldier was also wounded, A British Defence Ministry spokeswoman said: "We are not aware of any British involvement in this at all." A Turkish Foreign Ministry official denied any Turkish part in such an action.
October 4:"The Nimitz Carrier Strike Group is operating in the Red Sea as a prudent positioning of forces should the capabilities of the strike group be needed there, and it places that group in a position to conduct maritime security operations and exercises with our partners in that part of the region."
CVN-75 Truman Carrier group 24Se-01Oct2013, North Arabian Sea
USS Georgia (SSGN 729) transited Suez Canal September 14.
"White soldiers" arrived by boat at the port of Barawe. Residents in Barawe, which is controlled by militants, say they were woken up by heavy fighting before dawn on October 5. "Gunfire broke out for about 10-15 minutes," No-one has admitted the attack. The targets of the raid were "high-profile" foreigners.
[March 24 2010]
Almezaan IMO: 7906710
owner: Shahmir Maritime,
manager: BIYAT INTERNATIONAL GROUP OF COMPANIES L.L.C.
Nov. 30, 2009
MOGADISHU //[Crew members spoke on board the ship, which is now docked in Mogadishu's port.] The hijackers attacked in broad daylight. Just after noon, when the intense sun casts a harsh glare off the deep blue Indian Ocean, three small speedboats ferrying about 10 pirates each approached the MV al Mezaan.
Mohamed Bashir Baht, left, the Pakistani engineer of the ship, said the pirates told the crew they were going to shoot them.
"They started firing in the air and they shot a rocket launcher," said Mohammed Shafi Noor, 70, the captain, who is from Mumbai. "They had powerful boats. They came on board and hassled us very badly. They told me to stop the vessel."
The MV al Mezaan set sail from Ajman on October 25 destined for Mogadishu, Somalia's war-racked capital. The vessel is operated by Biyat International, a Dubai shipping company, and is owned by Shahmir Maritime, a company based in the Caribbean nation of St Vincent and the Grenadines, maritime experts said. It is registered in Panama.
Sushil Kumar Verma, the second engineer on MV al Mezaan. He was aboard the vessel when it was previously hijacked twice this year.
One week into the voyage, on November 3, the 2,000-tonne, 50-metre vessel was seized in open waters and was rerouted to the town of Garacad, a notorious pirate lair in the northern Somali region of Puntland.
Some of the cargo may have been offloaded in Garacad, but the crew had no way of confirming this.
According to the captain of the Mezaan, the ship was carrying "general cargo" – sugar, cooking oil, building materials and used cars – to be sold in Mogadishu.
Last month's seizure was not the first time the ship had been hijacked. The Mezaan, which is regularly chartered by Somali businessmen to ferry goods from Dubai to Mogadishu, was held by pirates for one week in May. The second engineer, Sushil Kumar Verma, an Indian, was on board during both hijackings.
"The second time was more difficult," he said. "The first time was only six days and was easy. This time was two weeks."
The next day, just as mysteriously as they had arrived, the pirates slipped back into their skiffs and motored away and the Mezaan was free to continue its journey to Mogadishu. The captain said he does not know if a ransom was paid.
The crew were in good spirits as they waited aboard the ship for instructions from the shipping company. Mr Noor said he is ready to go home, but would make the trip to Somalia again if called upon.
"We are ready to go home if they can send us," he said. "We are seafarers. If they send us back [to Somalia], we don't have a choice. Our stomachs have to be filled somehow."
Another report:
This now clarifies that the vessel sea-jacked last Friday and now approaching the Somali coast is MV AL MEZAAN (IMO number: 7906710) a general cargo ship with a gross tonnage of 2086 built 1979 and sailing under the flag of convenience of Panama. The vessel sports as "registered owner" SHAHMIR MARITIME of St Vincent & The Grenadines while BIYAT INTERNATIONAL from Dubai in the United Arab Emirates serves as ship-manager. Only questions remaining: Are there armored vehicles on board as claimed by the pirates and will the Somali businessmen involved be able to get the crew and vessel free as soon as possible? "We decided to free the merchant ship" when it reaches the coast, Muse Salad, a pirate spokesman, said today by telephone to Bloomberg. "The ship carries foodstuffs like rice, flour, sugar and building materials". The vessel was under way from the United Arab Emirates to Mogadishu when it was seized, Ali Mohamed Siyad, a market traders' chief at Bakara, Somalia, said by telephone. The crew is Asian, including Indians, and the cargo is owned by Somali businesspeople, he said.
Early on the morning of Tuesday 23 March, a Panamanian-flagged cargo ship, UAE owned, MV ALMEZAAN, en route to Mogadishu, was attacked by pirates off the Somali coast.
The ship was approximately 60 miles south of Haradere.
EU NAVFOR understands that the attack was successfully repulsed, the pirates broke off their attack and they have left the vicinity of the ALMEZAAN. All personnel onboard the ALMEZAAN are reported to be well. Early on the morning of Tuesday 23 March, an EU NAVFOR warship received a distress call from a merchant ship off the Somalia coast and proceeded at high speed to assist.
As previously reported, the Panamanian-flagged cargo ship, MV ALMEZAAN, en route to Mogadishu, was under attack from pirates. An armed private vessel protection detachment on board the ship returned fire, successfully repelling the first attack, but the pirates continued to pursue. A second attack was repelled and the pirates fled the area.
The EU NAVFOR frigate ESPS NAVARRA, from the Spanish Navy, was dispatched by the Force Commander, Rear Admiral Giovanni Gumiero of the Italian Navy, and raced to the scene of the incident. She launched her helicopter, quickly locating the ALMEZAAN and the pirates' boats, known as skiffs. When the suspects failed to heed the helicopter's instructions to stop, warning shots were fired by the aircraft, after which a team from NAVARRA boarded a skiff.
There were three boats, comprising one mother ship and two pirate skiffs. In the first skiff they found three suspected pirates and, in the second, three suspects and a fourth individual, who had died. The body has been transferred to NAVARRA, and an investigation indicated that the individual had died from small calibre gunshot wounds. The mother ship has now been destroyed and the remaining six suspects have been taken onboard the NAVARRA.