[May 19]
PLAN Type 052B DDG next to Haiyang Shiyou-981 oil drilling rig in South China Sea pic.twitter.com/qynyNdZIH5

— Alert 5 (@alert5) May 14, 2014
Displacement: 5,850 tons standard[1]
6,500 tons full load
Length: 155 m
Beam: 17 m
Draught: 6 m
Propulsion: CODOG 57,000 shp
Speed: 30 knots
Complement: 280
Armament: 16 YJ-83 anti-ship missiles
48 SA-N-12 Grizzly surface-to-air missiles
1× Type 210 100 mm dual purpose gun
2 Type 730 CIWS
2 anti-submarine mortars
6 torpedo tubes
Aircraft carried: 1 helicopter: Kamov Ka-27
Aviation facilities: Single helicopter hangar
[May 10]
Heavy lift Rolldock Star with the HQ-183 Ho Chi Minh City City submarine on board entered Cam Ranh Bay on March 19, 2014.
Submarine. Kilo Class shipped to China
The submarine has a load of 2,300 tons and can carry a crew of 57. It can operate at a maximum depth of 300 meters at a range of 6,000-7,500 nautical miles for 45 days and nights. The vessel is armed with a Klub-S cruise missile system with 3M-54E1 missiles bearing 450-kg warheads that have a firing range of 220 km. It also has a system of eight Strela-3 anti-aircraft missiles with a firing range of 6 km, six torpedo tubes, and other advanced military equipment.
China itself has adopted a strategy of building up a submarine force to counter a superior surface opponent (the US Navy). It's entirely logical for Vietnam to adopt a similar approach vis-a-vis China, especially given that China's lifeline of raw materials and exported goods from and to Africa, the Middle East, Europe, and parts of Asia passes right by Vietnam's doorstep. Aside from Thyssen Krupp Marine's U209 family of submarines, the Russian Kilo Class are the world's most widely exported subs. They're known for a level of quietness that's significantly better than other Russian designs, and have been produced in the Project 877EKM, and the Project 636M "Improved Kilo" / Varshavyanka Class variant that Vietnam is receiving. Countries operating or ordering these submarines include Russia, Algeria, China, India, Iran, Poland, and Romania. Vietnam appears to have opted for a longer-range, higher capacity 3,000t submarine.
[April 27]
Promenaders watch the docked amphibious assault ship USS Essex embark from Subic Bay in October 2006
Local leaders and business people in Subic Bay confirm that both Philippine and American defense officials have been there recently to examine the options.
Under the terms of the new defense pact due to be signed April28, the U.S. is only allowed "rotational" access to existing Philippine facilities and cannot run its own bases. That means the Philippines will have to set up new facilities at Subic before the Americans can come in.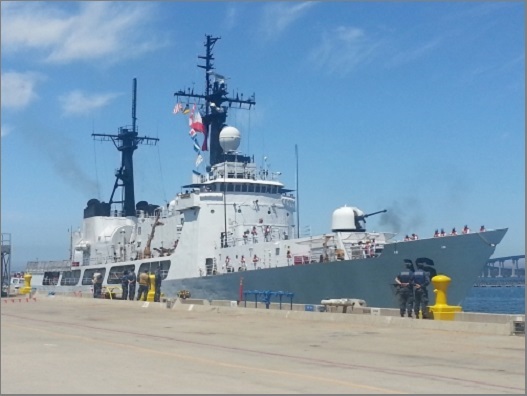 BRP Ramon Alcaraz
The frigate, BRP Ramon Alcaraz, sailed into the Philippines' Subic Bay, a former U.S. naval base.
BRP del Pilar was the country's first Hamilton-class weather high endurance cutter (WHEC) acquired from the United States, in 2011. It will be used to patrol areas of the South China Sea near the Philippine coast that have become a major source of tension with Beijing. The Philippines received the latest cutter for free under Washington's foreign military financing program, but spent about $15 million to upgrade its weapons and radar systems. Hamilton-class ships have the basic modern technology the Philippine Navy needs to train its personnel, and has the size to install current and future weapons and sensors to keep it up-to-date for another decade.
Despite the removal by the US of its original radar systems, the PF-15 has new navigation and surface search radar and a new C&C/Common Operational Picture system. It also has a helicopter hangar and helideck for shipborne helicopter operations, and provisions for new radar and communications systems if the PN decides to install, provisions are also available to upgrade and up-arm the Hamilton-class ships.
The armed forces plan to buy radars, surveillance planes, fighters, and helicopters under the $1.7-billion plan.
Manila has opened talks to acquire a dozen new fighter jets and two frigates from South Korea. It has also ordered 10 coast guard ships from Japan and three more vessels from France.
He said the Hamilton-class ship will be deployed to Palawan and then to the Spratly Islands.
"It is to protect our interest in the natural resources operations that we have, more (specifically) in Malampaya…It is near Spratlys but basically, the objective is to protect our Malampaya (natural gas project)," he said. the Navy would need to acquire "as many large-hull warships it can possibly get with its limited budget," to show its presence and patrol the vast areas within the exclusive economic zone (EEZ).