Russian President Vladimir Putin on April 13 lifted a five-year ban on delivery to Iran of the S-300 air defense missile system. It would significantly bolster the Islamic republic's military capability by providing a strong deterrent against any air attack.
The White House said Secretary of State John Kerry had raised concerns over the move in a conversation with his Russian counterpart Sergei Lavrov.
[August 16 2012 Alaed: transits Suez Canal]
[Aug 11]traversing Mediterranean
Alaed, anchored, with Padre Piolini near Malta
[August 4]
Alaed off Brest, France headed for De Kastri near Sakhalin and North Korea
[July 20]A Russian cargo ship carrying a batch of Mi-25 attack helicopters and air defense systems for Syria has offloaded the aircraft in the Russian port of Baltiysk in the Kaliningrad region, a security source said on Friday.
"The ship has unloaded," the source said. "These helicopters are now on the shore. A decision from Rosoboronexport on what to do with them is expected shortly."
The helicopters, which were originally overhauled at the 150th aircraft repair plant in Russia's exclave of Kaliningrad,
[June 26]"The ship Alaed when departing from Murmansk and through the whole way to Syrian port Tartus will be necessarily provided with escort to avoid provocations".
"When sailing alone, the ship may get into an unpleasant situation which then could be justified by pirates or sea environment, so Alaed needs eyewitnesses and, if necessary, prompt assistance".
The interviewee stressed that Alaed would be escorted not by a warship or supply vessel subordinated to Russian Navy "in order to avoid undesirable involvement of Russian Navy in this complex and ambiguous issue; the cargo ship will be accompanied with a civil vessel".
[June 26]Russia's main weapons producer has allegedly suspended its contract with Syria to supply S-300 long-range missile systems. Russia's 'Vedomosti' daily published the report, citing unnamed sources within the military-industrial complex.
The very fact of the contract's existence was not known until it was revealed in an annual report made only last week and published online by the makers of the S-300 systems, Almaz-Antey.
The report states that the company's largest contracts are with Algeria (which is paying $39 million for a long-range missile defense system), and Syria, which signed a contract for the same system for $105 million.... However, the circumstances in 2010 were rather different. If Russia had fulfilled its contractual obligations back then, it would have been violating an international embargo. But no such embargo currently affects contracts between Russia and Syria.
But President Vladimir Putin had previously said the arms that Russia delivers cannot be used in civil conflicts, and Russia's foreign minister, Sergey Lavrov, stated the supplies were merely defensive weapons sold in contracts signed long ago.
"We are sending no battleships to Syria. We have been saying publicly that we have been implementing contracts under which we have to supply arms to Syria. These armaments are entirely defensive and they mostly consist of air defense systems, which cannot be used against the population and can only be used to respond to outside aggression," Lavrov told RT.
earlier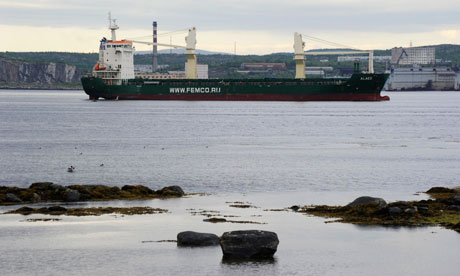 Alaed moored at Murmansk
[June 25]A Russian ship carrying attack helicopters that was prevented from sailing to Syria has been refitted with a Russian flag, rousing suspicions it is preparing for a second attempt. Russia's foreign minister, Sergei Lavrov, admitted that the Alaed was carrying supplies for Syria. "The ship was carrying air defence systems, which can be used only for repelling foreign aggression and not against peaceful demonstrators, and it was carrying three repaired helicopters,"
[June 23]The Russian ship MV Alaed, carrying a cargo of overhauled Russian-made Mil Mi-25 helicopter gunships bound for Syria, will dock in the north Russian port of Murmansk on Saturday, Russian Foreign Ministry spokesman Alexander Lukashevich said on June 21.
"While transiting the North Sea to the Atlantic, the ship-owner was informed that its third-party insurance cover had been withdrawn, and the classification agency in which the ship is located - although it is registered under a Curacao flag - demanded it go into a port for inspection. In order to avoid delay, it was decided to dock in Murmansk where it is expected on June 23, for re-registration under the Russian flag," he said.
June 19]In a statement given on June 20, Femco denied the allegations of illegality, insisting that it would never jeopardise its reputation for "reliability and business integrity".
"Reports about illegal actions of the MC Alaed's owner are inaccurate," read the statement. "The vessel is currently making a regular commercial voyage, in full accordance with international norms and rules."
[June 10]Washington, which has condemned Moscow for continuing to arm the Syrian regime, has asked British officials to help stop the Alaed though owned by Curacao-based company, but operated by a Russian company Femco, based in Yuzhno-Sakhalinsk, Sakhalin island, Russian Far East. from delivering its alleged cargo by using sanctions legislation to force its London-based insurer to withdraw its cover.
Under the terms of the current European Union arms embargo against Syria, imposed in May last year, there is a ban on the "transfer or export" of arms and any related "brokering" services such as insurance
A Moscow-based defense analyst said the Alaed was carrying helicopters that were bought by Syria during the Soviet era and had been sent back to Russia for repair in the Baltic Sea exclave of Kaliningrad.
"I am sure based on open source material that the ship is carrying 12-15 helicopters that were repaired in Kaliningrad and are on their way to Syria," said Ruslan Aliyev, who works at defence think tank CAST, referring to an order of M-25 helicopters.
"They were old helicopters bought by (Assad's late father and predecessor) Hafez al-Assad, I believe at the end of the 1980s."
Vessel's Details
Ship Type: Cargo
Year Built: 2010
Length x Breadth: 130 m X 20 m
Gross Tonnage: 7579, DeadWeight: 9000 t
Speed recorded (Max / Average): 13 / 12.8 knots
Flag: Neth.Antilles [AN]
Call Sign: PJOS
IMO: 9574999, MMSI: 306064000
ALAED

Neth.Antilles

PJOS

2012-06-09 08:22
AOLI 8

Belize

V3NY7

2011-10-30 06:30
Vessel left S-Petersburg on June 8 and on June 10 called Baltiysk, a well-known military base on Baltic sea. Vessel left Baltiysk on June 11. m/v Alaed last and ongoing voyages are a mystery
[June 15]Moscow has sent a ship carrying a small contingent of combat forces to guard Russia's deep-water port and military base at the Syrian city of Tartus, the US officials said.Russian special forces have arrived in the Syrian Mediterranean port city of Tartus, opposition sources told Al Arabiya on Monday.
Israeli-based open source military intelligence website DEBKAfile has also reported that two Russian naval vessels have anchored at the Syrian port of Tartus.
A source close to Russia's arms exporting monopoly Rosoboronexport said Clinton's comments may have referred to helicopters sent to Russia in 2009 for repairs and which may be on the way back to Syria.
The source said on Wednesday at least nine Mi-25 helicopters were sent to Russia's Baltic exclave of Kaliningrad to be repaired by Oboronservis, owned by the Defense Ministry.
The US state department has acknowledged that Russian helicopters it claimed had been sent recently to the Syrian regime were, in fact, refurbished ones already owned by Damascus.
Secretary of state, Hillary Clinton, claimed on June 12 that "the latest information we have that there are attack helicopters on the way fromRussia to Syria".
The state department admitted details had been omitted from Clinton's speech in which she accused Russia of escalating the violent situation in Syria. But spokeswoman Victoria Nuland said: "Whether they are new or they are refurbished, the concern remains that they will be used for the exact same purpose that the current helicopters in Syria are being used, and that is to kill civilians.
"These are helicopters that have been out of the fight for some six months or longer. They are freshly refurbished. The question is simply what one expects them to be used for when one sees what the current fleet is doing. Every helicopter that is flying and working is attacking a new civilian location so the concern is when you add three more freshly refurbished helicopters to the fight, that is three more that can be used to kill civilians."
[June 12]we are concerned about the latest information we have that there are attack helicopters on the way from Russia to Syria, which will escalate the conflict quite dramatically. A spokeswoman, however, made clear that Clinton's concerns pertained to helicopters now en route to Syria and not about the possible past sale of Russian-origin attack helicopters to Syria.