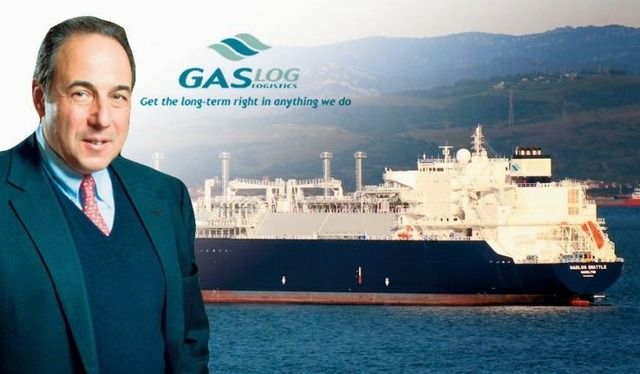 Peter Livanos, with a fortune estimated close to 3 billion Euros
The leading Greek shipping magnates are John Angelicoussis, George Prokopiou, Peter Livanos and George Economou. Between them, they own almost 400 vessels.
Shipping is a source of pride and jobs for Greeks. It is the one area in which they unquestionably lead the world: their country's merchant fleet is the biggest on Earth. Directly and indirectly, it is reckoned to give work to almost 200,000 people.
But the shipping business also provokes resentment. Greece's 1967 constitution stipulates that the industry should pay no tax on the international earnings it brings into the country. And it has little to fear from either the debt crisis or an exit from the euro.
"
It's not really affecting us because we're not Greek companies: we're based abroad," said a tanker owner who requested anonymity in view of the sensitivity of the situation. "The law allows us to have a ship registered in Liberia or Panama and an office in Greece. If everything collapses, we can leave the next day and establish in Cyprus or wherever.
"
Our business is done in US dollars and shipping companies don't just have one account in one country," he said. So, the current financial problems there will not have any impact on Greece's ship owners.
[February 9 2011
Irene SL: Nikolas Lemos VLCC hijacked
]
9285823 IRENE SL SVXS Crude Oil Tanker 319247 2004 Greece First Navigation Special Maritime Enterprises
350 nautical miles South East of Muscat with 266,000 tons of crude
Enesel S.A. is a ship-management company based in Athens, Greece, operating a diverse fleet of ultra-modern high specification tankers and bulk carriers.
Enesel S.A.'s history can be directly traced back over 150 years to c.1848, when Georgios C. Lemos ("Papa-Lemos") acquired a small share in a sailing ship. Since then, The Group has had an active and strong presence in the shipping industry. Until the early 20th century its vessels were managed in Greece, with S.G. Livanos as their London representatives. In 1937 Lemos & Pateras Ltd. was set up in London. Nearly fifty years later, in 1983, N.S. Lemos & Co. Ltd., a continuation of Lemos & Pateras Ltd., was established by Captain Nikolas S. Lemos, to act as Agent for Avra Shipmanagement S.A. which was founded in the late 1950s, and subsequently for Sealuck Shipping Corporation, founded in 1993. Avra Shipmanagement S.A. and Sealuck Shipping Corporation were merged to create Enesel S.A. in 2003. During its long history, The Group has operated almost all types of dry cargo vessels, as well as container ships, multipurpose ships and OBOs, and has had a significant presence in most large crude carrier segments.
Enesel S.A. currently manages a modern and diverse fleet of five tankers - three VLCC and two aframax - and three supramax bulk carriers and also has three suezmax tankers on order. The average age of the current fleet is 3.75 years. All existing vessels, as well as ships on order, are constructed to the highest international standards in first-class shipyards. The entire fleet is chartered to high profile charterers and operators on both a voyage and time-charter basis.