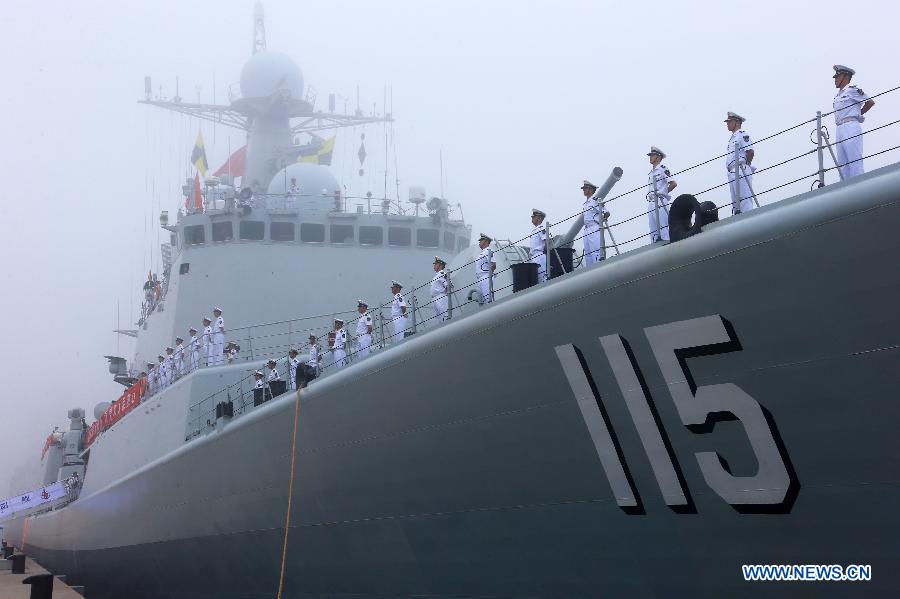 China's defence ministry said on July 2 that its navy would send four destroyers, two guided missile frigates and a support ship for exercises with the Russian navy, which start on Friday in the Sea of Japan and run until 12 July.
115
沈阳 / Shenyang
116
石家庄/ Shijiazhuang
The Type 051C or Luzhou class destroyer is a long-range air-defence guided missile destroyer built by China in its ongoing effort to create a true blue water navy. The ship uses the hull design of the older Type 051B (Luhai class), but is equipped with the advanced Russian S-300FM air defence missiles systems. Currently, two ships of this class have been launched and deployed by People's Liberation Army Navy North Sea Fleet.
General characteristics
Displacement:
7,100 tons
Length:
155 metres (508.5 feet)
Beam:
17 metres (55.8 feet)
Draught:
6 metres (19.7 feet)
Propulsion:
2 indigenous steam turbines
Speed:
30 knots
Armament:
48 x S-300FM (SA-N-20) surface-to-air missiles (6 x 8 revolver-style VLS)
8 x YJ-83 (C-803) anti-ship missiles
1 x 100 mm dual purpose gun
2 x Type 730 30 mm seven-barrel Gatling gun close-in weapons systems
2 x 3 324mm torpedo launchers carrying Yu-7 torpedoes
2 x 15 Type 946 decoy launchers
2 x 18 Type 726-4 decoy launchers
Aircraft carried:
Kamov Ka-28 Helix size Helicopter
Aviation facilities:
No hangar
The ships departed on Monday from the port of Qingdao, where China's Northern Fleet is based, and headed for the rallying point in Peter the Great Bay near Vladivostok.